Last night I saw this tweet:
did a search for obama on facebook, top type ahead result: the Romney campaign page?! #antirelevance

— John Wang (@javasoze) September 19, 2012
Of course I went to try it myself. Here's what I saw: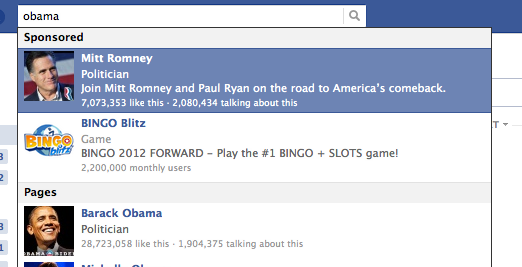 Facebook may be the $50B pound gorilla of social networks, but when it comes to search it's just a toddler. I want to believe I know a thing or two about search by now, so let me explain why the above is terrible in a number of ways.
Search and advertising have one thing in common: they are specific instances of the Matchmaking Problem. As a channel for search results or ads, you are trying to find a match between two parties where each one has something the other wants:
In search, one party wants information. The other wants eyeballs.
In advertising, one party has money. The other has product to sell.
Why did Google get to dominate the world of online advertising? One word: relevance. If I search for something and the result is an ad, I may not perceive it as an ad if it's exactly what I want. For example, I searched Amazon for "Macbook Air" just now. Would you say the results below are ads? Does the distinction even matter in this case?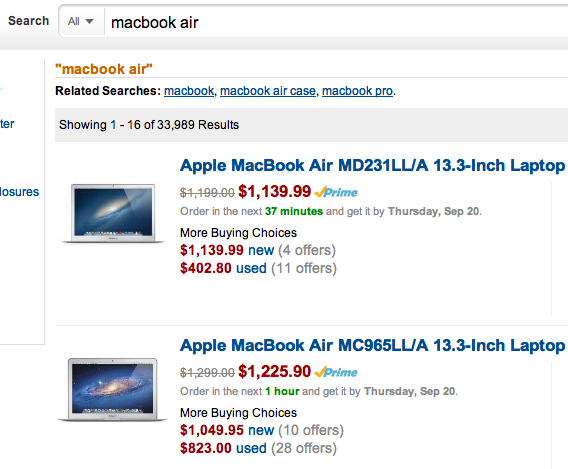 As a broker between two parties, your job is to make transactions more efficient. If Amazon  tried desperately to sell me a Dell machine whenever I search for a Mac, they would be wasting my time. Presumably they would be wasting Dell's money too, if Dell paid Amazon for this service. This is bad for me and Dell in the short run, and for Amazon in the long run: they might lose me as a customer and/or alienate Dell and Apple.
So the question is: why did Facebook think it was a good idea to take Romney's money and display his page as a sponsored result for the search Obama? I bet 99% of the people who type Obama DO NOT want to see Romney. I also think this is a waste of Romney's money (which may be a good thing from my point of view, but this is irrelevant).
I'll attribute this to Facebook's inexperience with sponsored search results. This is certainly not good for Facebook's user experience, but they must have thought it was worth it to them because of the revenue. If so, that's shortsighted. An honest broker would have told Romney's staff that buying the word Obama was a poor use of their money. I assume they'd want to make them a happy customer: Romney may not be winning this election, but there can be no doubt that the GOP will be spending truckloads of money on advertising for the foreseeable future.