This weekend David Sacks (CEO of Yammer, sold to Microsoft for $1.2B) made a statement that I consider extremely shortsighted: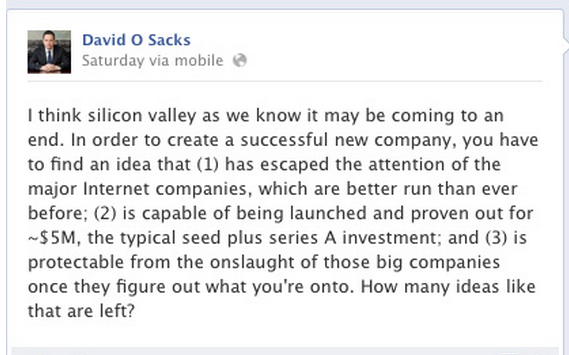 I believe his judgment is affected by the "I sold my company, so long suckers" syndrome. The main flaw in his reasoning seems to have escaped investors like George Zachary and Marc Andreessen (dude, I always have to google your last name). To put it in a few words:
Silicon Valley and the internet industry are not one and the same.
I'm not going to make a long argument about this, because it's plain and obvious. You could have made the exact same argument in 1995 but used the word "computer" instead of internet. It seems that Google and Facebook have made people forget that Silicon Valley has always been about solving problems with technology, and the technology has always been in flux. Yes, if you build a new Instagram it probably won't become a "giant": it will be acquired by Facebook for one billion seven hundred million dollars. In what amounts to journalistic surrealism, pundits will speculate about how they could have cut a better deal.
In the meantime there are tons of technology problems not making headlines. Healthcare for one hasn't advanced that much in the past 50 years. Even in the first world people are dying of stupid, preventable diseases. Some of them could be monitored and controlled with cheap smartphone peripherals plus data analysis. Transportation is in many ways worse than before 9/11. We fly in planes from the 1960s, but the trip takes longer than it used to: security, slower speeds because of fuel costs. These are just two problems, there are countless more. Of course the internet is a tool to solve them, just like computers and calculators. However, the companies tackling them are NOT internet companies like Google and Facebook. Sure, Google is working on self-driving cars. Still, there are 99 other problems they can't even begin to think about. There are Silicon Valley startups working on these problems. I know a few. Ten years from now there will be multi-billion dollar, non-internet-centered Silicon Valley companies that you haven't heard of yet.
TL;DR: David Sacks, go put together a vintage car collection and stop making a fool of yourself on Facebook.