I just saw this poll on the front page of Yahoo Finance: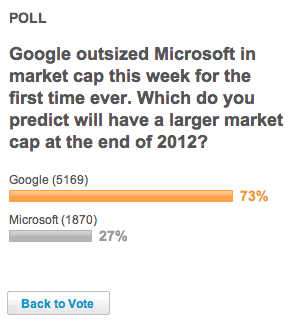 For background, Google's market cap at today's closing is roughly the same as Microsoft's. (247.56B vs 248.65B). The Beta for MSFT is 1.00 vs 1.09 for GOOG. If you know anything about finance and math, this means roughly 50/50 odds for either company (especially over 90 days).
The poll question is equivalent to asking people to predict a coin toss. 73% of the people are calling heads, 27% are calling tails!
The information I get from this: more people would like Google to worth more than Microsoft by the end of the year. Because nothing is on the line, they answer the poll accordingly. However, when it comes to putting their mouths where their money is, the stock market gives us 50/50 odds.
If you don't understand or don't agree with the above, please read one of the following two books before making a comment:
A Random Walk Down Wall Street by Burton Malkiel
The Signal and the Noise by Nate Silver
Even if you do agree, check them out if you haven't. If you needed a license to buy stocks, Malkiel's book would be required reading.